Great article on Indycar.com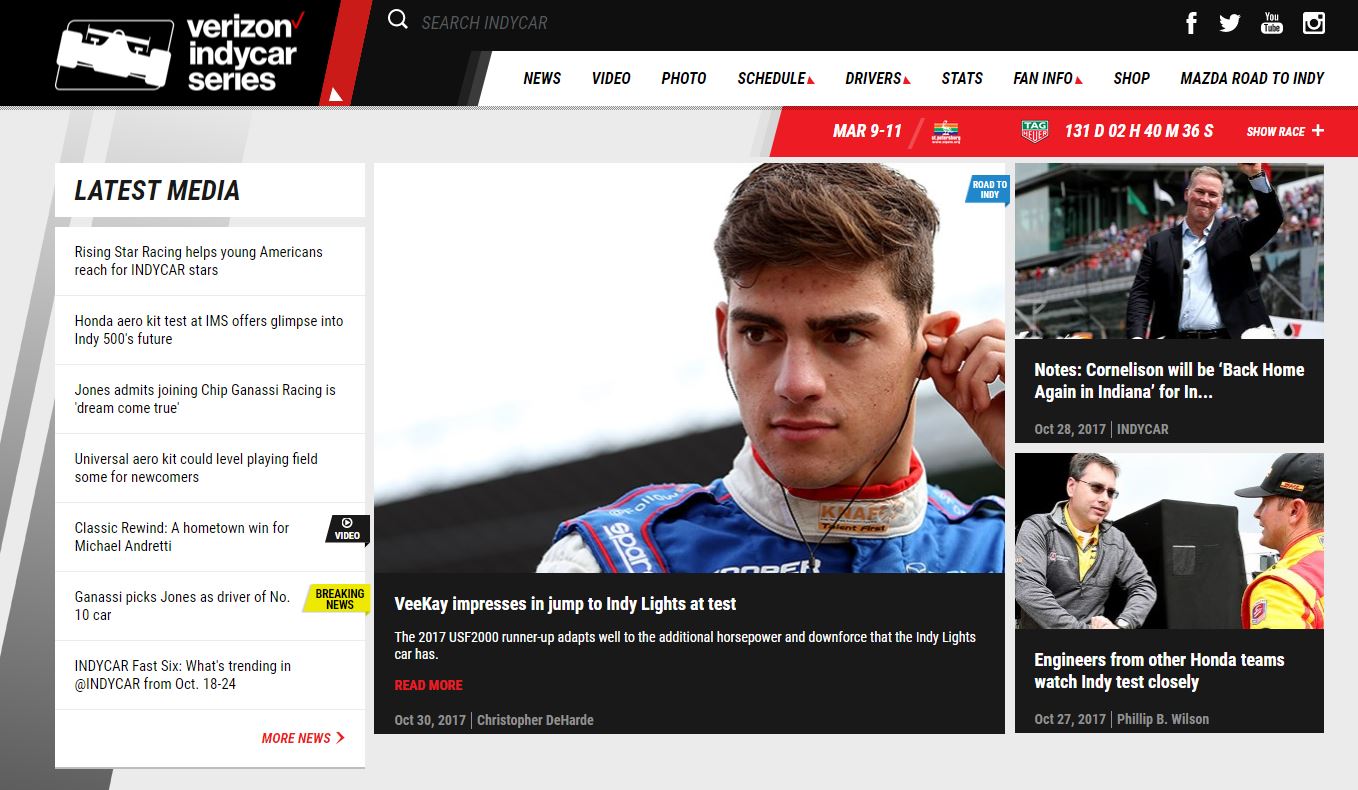 The well known website Indycar.com has published a nice article about my Indy Light debut, and for a moment I'm even on the homepage!
Check the article here, or read the text they published below.
Rinus VeeKay has driven everything he can get his hands onto. The Chris Griffis Memorial Test was no different for the talented 17-year-old Dutchman.
On Oct. 21-22 at the Indianapolis Motor Speedway road course, the newly crowned Cooper Tires USF2000 Championship powered by Mazda runner-up was behind the wheel of a Belardi Auto Racing Indy Lights presented by Cooper Tires entry.
With that, VeeKay is believed to be the first driver to sit behind the wheel of all three current cars in the Mazda Road to Indy presented by Cooper Tires, having tested a Tatuus PM-18 for Pabst Racing ahead of the team's to-be-announced 2018 Pro Mazda Championship presented by Cooper Tires campaign.
VeeKay's motivation for the Indy Lights test was simple.
"We just wanted to do something crazy just to see if I was capable of doing it," said VeeKay, whose last name is a phoneticized version of van Kalmthout.
"I've got a quick teammate (Nico Jamin) who can teach me a lot of stuff and I'm very happy with it," VeeKay added.
After spending 2017 in USF2000, jumping into an Indy Lights car to test is a massive leap of 275 horsepower from 175 to 450.
"It's for sure much more powerful," VeeKay said. "You'll really feel the turbo kick in and you can feel the downforce. With this car, when you go quicker through a corner, you have more grip.
"That's not the case with the Pro Mazda or USF2000 car and it's a pretty hard car because it's big and it's heavy, so in the slow corners it's hard to be more gentle coming out of the USF2000 and Pro Mazda cars."
Still, VeeKay enjoyed testing the PM-18 which makes its competitive debut in the 2018 Pro Mazda season.
"It's an amazingly quick car. It's unbelievable how quick that car can be for having the same basics as the USF2000 car," said VeeKay. "I've done six days of testing, so there's quite a lot of laps already and it's a great car. It will be a great championship for sure next year."
At the Griffis test, VeeKay was fifth fastest of the 12 drivers to logged laps. His best lap of 1 minute, 16.1419 seconds (115.316 mph) on the 2.439-mile permanent road course was less than a half-second shy of Jamin, who was quick for the weekend.
Belardi team manager John Brunner was pleased with VeeKay's pace and feedback.
"He stacks up quite well," Brunner said. "I mean, he's quick, we expected him to be quick. He's driven a lot of cars, he's driven cars with more horsepower than this, so I didn't expect it to be too much for him. We're getting honestly pretty much the results I expected."
"I talked to the engineer about (feedback) after the second run after the second session," said Brunner. "His feedback is very good. He felt the same things that Nico was feeling, so that's obviously a very big positive. Nico knows the car very well, so the fact that Rinus was saying the exact same thing was very promising as well."
Team owner Brian Belardi was equally enthusiastic about VeeKay.
"I rate him very highly," Belardi said. "He actually caught my attention last year at St. Pete. … That kid, he has outright speed. He's a great learner, he really understands what the engineers are trying to tell him but this weekend as far as the car is concerned, I am more than happy right now.
"He's been a quick learner and right now he's doing a wonderful job."