Luyendijk in praise: "I see Rinus van Kalmthout being successful"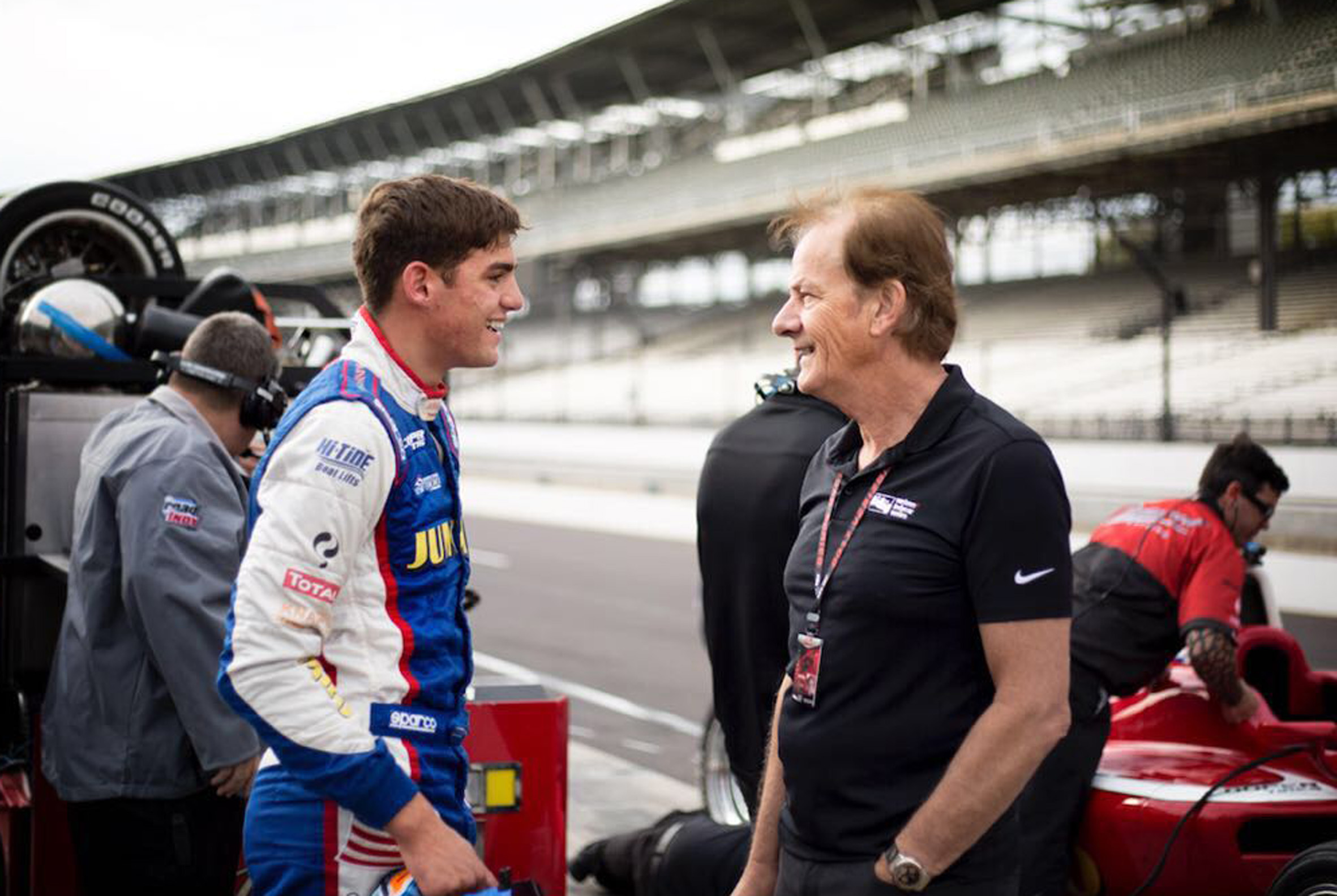 After a very strong debut season in the United States, Rinus van Kalmthout prepares for a second year in the States. His USF2000 car, with which the 17-year-old Hoofddorper became vice champion in 2017, has been replaced by a car from the class that is seen as a step up: the Pro Mazda. Arie Luyendijk, the living racing legend who nowadays serves as a steward race driver at the IndyCar Series, is by no means aware of the youngster's stormy development.
"Expectations are high", says Luyendijk in a conversation with GPUpdate.net, referring to the coming season of Van Kalmthout. "Something that Rinus is doing now is somewhere in line with the 'Max feeling', which reigned a while back in the Netherlands: he can do it, and he also seems to be able to do it. Rinus expects and I think the beauty is that he can deal with it very well, he is only seventeen, but very mature for his age. "
Where Max Verstappen was shot a few years ago as a comet to Formula 1, Luyendijk calms down in the Van Kalmthout case. "I see him doing great things in the future", thinks the two-time winner of the prestigious Indianapolis 500. "He actually has one little thing against and that sounds a bit strange: in America people look differently to age than in Europe. " Experience is important, says Luyendijk, who emphasizes that there is a high degree of mutual respect among the drivers in the IndyCar Series, many of whom have been sharing the track for years.
Van Kalmthout might have been able to take an extra step: the super-talent was allowed to taste an Indy Lights car almost six months ago, even a step higher than the Pro Mazda car with which he will drive next year. The 17-year-old felt like a fish in the water during the Chris Griffis Memorial Test, giving young talents the chance to show off their skills. Interest was enough - yet the choice went to an employment at the famous Juncos Racing, in the Pro Mazda class.
"The mentality is different in the States than in Europe, although with Pietro Fittipaldi (the grandson of Luyendijks former opponent Emerson Fittipaldi, ed.) There is a fairly young guest at the start in the IndyCars. Van Kalmthout to drive Pro Mazda, only to applaud.He might well be strong in a higher class - he was also immediately when he was allowed to drive in the Indy Lights-car - but given his young age is smart to gain as much experience as possible, and therefore not to skip steps, I think Rinus is successful, Juncos is a good choice - they have already won many championships, including the 2017 Pro Mazda title with Franzoni. Indy Lights. "
Luyendijk can not be tempted to compare Van Kalmthout with Verstappen: "For that it is too different, and Max is a few years older." A good impression has, however, made his compatriot in the support program of the IndyCars directly, and his level seems to rise by leaps and bounds. "Rinus is just a year in motorsport, but what I've seen of him is just very good." Looking at his age and his experience with cars, I think "wow." In 2017 Rinus became better and better, got more and more self-confidence. "
According to the 64-year-old, Van Kalmthout's racingcraft, which operates in the United States under the name Rinus VeeKay, is its distinguishing feature. "If, for example, he qualifies in third place, he does not have to say anything at all, but in the race he can move forward with his moves."
The fastest man ever on the Indianapolis Motor Speedway is sometimes asked for advice by the Van Kalmthout camp, although he plays down his own influence. "Occasionally I can play a little Uncle Arie", says the Sommelsdijker with a joke. "Rinus is a strong duo with his father, Marijn, who is a good businessman, who also has a lot of fun for his son, which I like to see, the Van Kalmthouts have a very nice family bond."
Next week Sunday the IndyCar season 2018 starts - also the Pro Mazda class knows its overture, there is raced in the streets of St. Petersburg, Florida. Together with Arie Luyendijk and Rinus van Kalmthout GPUpdate.net sees ahead of the American racing spectacle this week.