NEW: Visit my Fangage
I've launched my own Fangage – a new communications platform that allows me to be in touch with my great fans directly.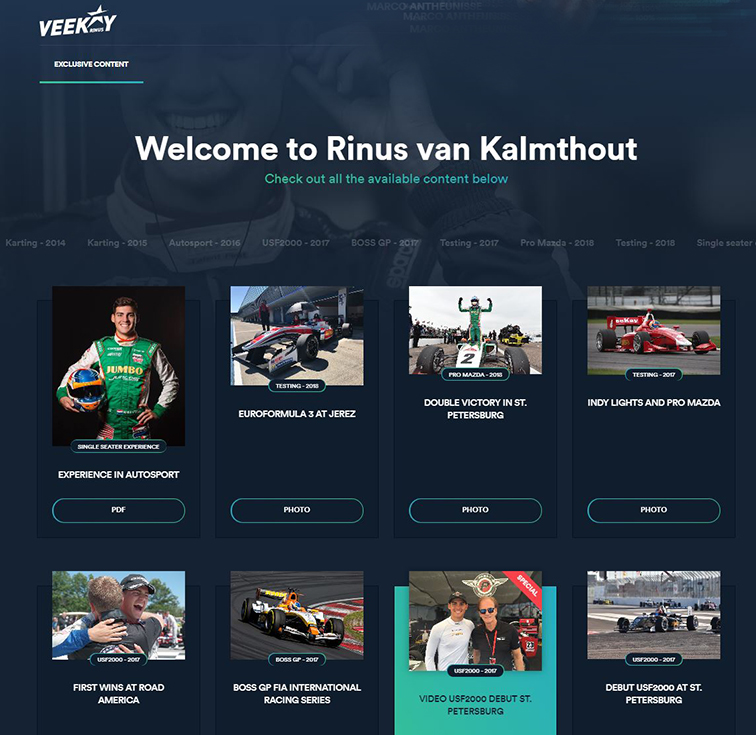 "I've come to know Fangage through some Dutch DJs who have been using this platform very successfully for quite some time. I have been in touch with my fans through Facebook over the past year, but I have no idea who they are – and that is really frustrating to me. The only thing I can see is the 'likes' they give me, but I want to give back more. I have a lot of fans around the world now that I race in the States, and on my Fangage fans.rinusvankalmthout.com I will post nice pictures and videos, giving back something special to my fans and creating a special relationship.
"Through my Fangage, for example, I can send an email back to someone who sent me a nice message. Fans can indicate how much information they give about themselves. When, for example, they pass on their residence and I will be in that area for a demo or a presentation, I will be able to invite them for a personal meet & greet. Or I can send a signed VeeKay polo shirt to a very loyal fan, those kinds of things. A huge advantage compared to Facebook where everything is pretty anonymous.
"It speaks for itself that Fangage is a system that guarantees your privacy. The data remains purely with me and will never be shared with third parties. The system complies with the new European GDPR legislation. My goal is to have real contact with my best fans, that is the sole purpose of my Fangage.
"So if you want to know more about what I do and experience, go ahead and sign up!"
Best regards,
Rinus VeeKay
Registering with my Fangage is safe and very simple:
- Go to https://fans.rinusvankalmthout.com
- Click on the green button LOGIN / SIGN UP at the top right
- You can sign up with your Facebook or Google+ account
- All your data is protected
- No spam will be sent