Phenomenal run brings VeeKay provisional P1 at Indianapolis
Just two minutes and 34.073 seconds were needed for Rinus 'VeeKay' van Kalmthout to complete four laps of the Indianapolis Motor Speedway, and in doing so, the 21-year old Dutchman exceeded his own expectations – after the first qualifying day for the Indianapolis 500, VeeKay sits in first place with an unprecedented average of 233.655 miles per hour.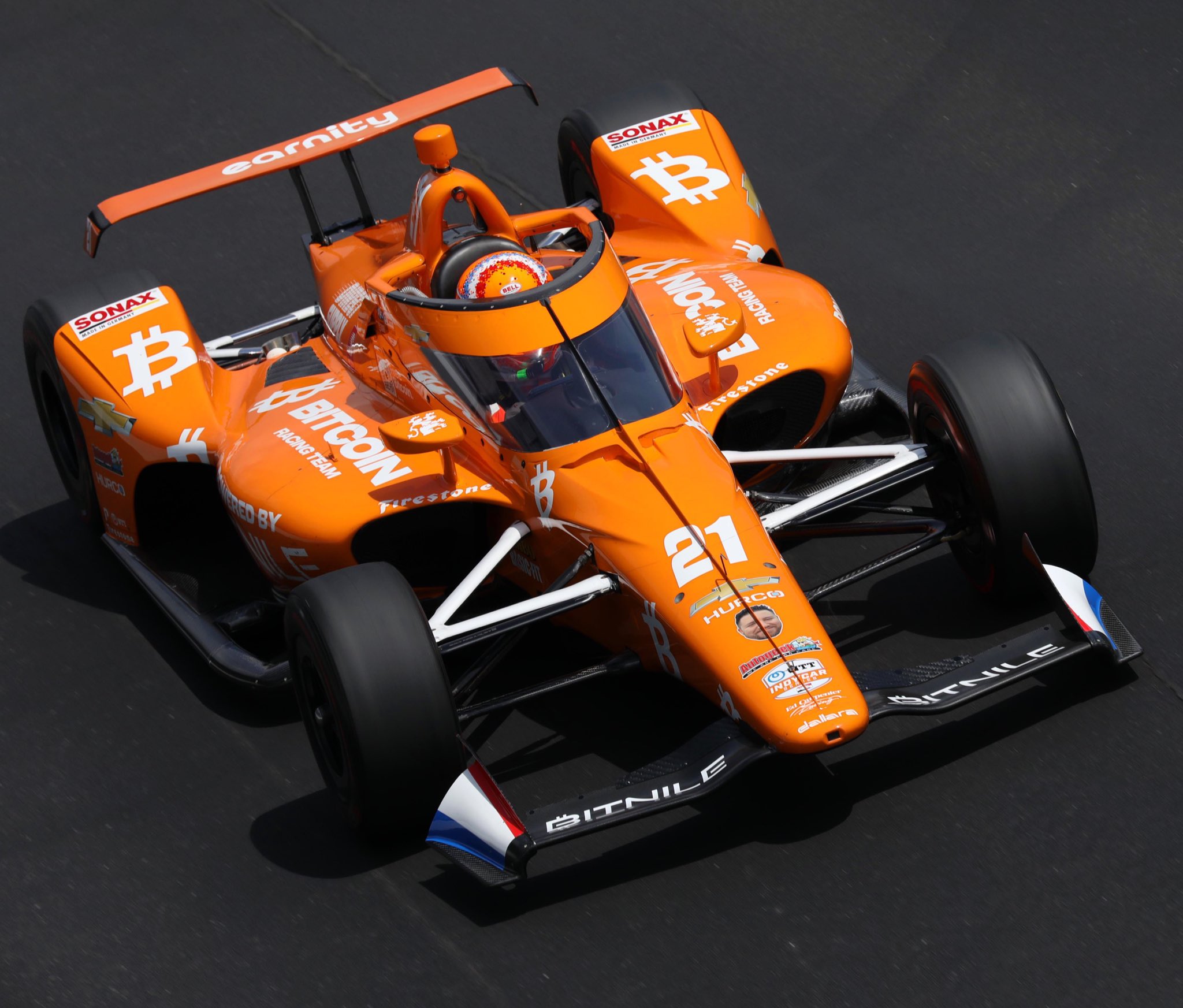 As usual at the Indianapolis Motor Speedway – scene of the sixth round of the 2022 NTT IndyCar Series – all eyes were on the Ed Carpenter Racing team before the start of qualifying, as team owner Ed Carpenter has taken pole position for the Indianapolis 500 three times in the past (2013, 2014 and 2018) while his driver Rinus VeeKay, driving the orange #21 Bitcoin Racing Team with BitNile car, has finished in the top four twice in his two previous appearances at the legendary race.
Qualifying for the Indianapolis 500 is spread over two days. On the first day, Saturday, all 33 drivers are able to do a qualifying run in which they each have to complete four laps in a row, of which the average speed is measured. The best twelve proceed to the second qualifying segment held on Sunday. In 2022, a third segment known as the Fast Six is added, in which the fastest six drivers will once again take to the track to fight it out for pole position.
Unlike team owner Carpenter, VeeKay had an advantage in the qualifying draw on Friday. VeeKay was the second to go out, which in a field of 33 drivers can be an advantage. As the ambient temperature was still relatively cool when VeeKay took to the track, he had an added factor on his side to produce a fast run.
In fact, VeeKay made the Brickyard roar. The 21-year-old from Hoofddorp posted an unworldly first lap of 234.702 miles per hour, one of the fastest laps ever recorded at Indianapolis Motor Speedway, a crazy first lap was followed by a lap averaging 233.921 mph. The third lap went in 233.353 mph, with VeeKay concluding his four-lap run with a very respectable 232.655 mph. The average of those four laps turned out to be a phenomenal 233.655 miles per hour.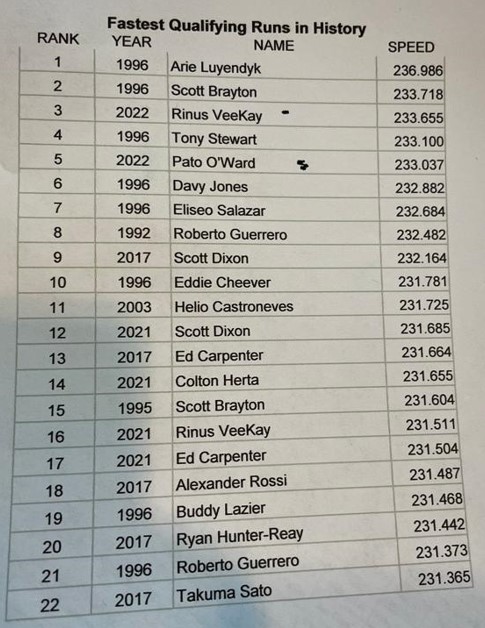 As an illustration – in the rich, 106-year history of the Indianapolis 500, an event in which 33 drivers participate each year, just two qualifying runs have been faster, with only countryman Arie Luyendyk and the lamented Scott Brayton in 1996 managing to marginally exceed VeeKay's speed today (Saturday).
"I'm very satisfied", VeeKay said with a sense of understatement, reporting back from the Indianapolis Motor Speedway. "The conditions were good, which was nice of course, but the car was also just about perfect. There's still a bit to be worked out for tomorrow's sessions, but I can definitely say this is a good start!"
"A first place is always nice and to be P1 at the Indianapolis Motor Speedway is very special, but I have to keep my attention on qualifying. We are in the top twelve, but only tomorrow the starting positions will be decided. There are two sessions left and I need to be faultless. If I can do that, I can compete for pole position. A place on the front row of the grid should be within our grasp anyway."
During his first two appearances at the Indianapolis 500, VeeKay could count on the support of his experienced team owner Carpenter and others, but these days the talented twentysomething knows how to find his own way quite effortlessly. "It's a kind of flow I'm in, I know what I'm doing", he said.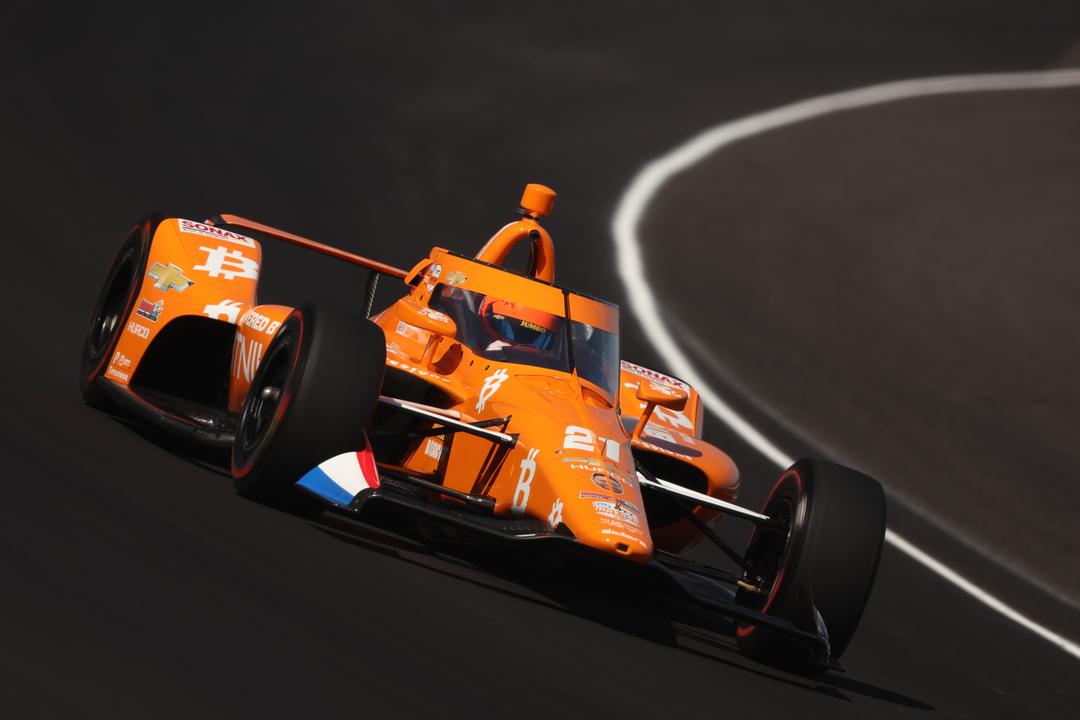 With VeeKay now in third position on the all-time rankings, it's tempting to look at Arie Luyendyk's all-time speed record (236.986 miles per hour average over four laps), but VeeKay knows his countryman had much more engine power at the time of the record run. "Normally Arie's record will remain for at least another year, as we are over three miles away from it. Of course we can make it a Dutch 1-2, if I go a bit faster tomorrow", VeeKay concluded in fighting spirit.
Qualifying for the 106th Running of the Indianapolis 500 presented by Gainbridge continues on Sunday with the Fast Twelve and the Fast Six sessions. As VeeKay set the fastest lap time in the first qualifying segment, the Dutchman will be the last to go out tomorrow. The all-important qualifying session starts at around 22:30hrs Dutch time.