VeeKay's breathtaking comeback drive remains unrewarded after accident
Rinus 'VeeKay' van Kalmthout had hoped that he had emptied the poisoned chalice after three consecutive tough races in the NTT IndyCar Series but yet again he was forced to deal with a setback at the World Wide Technology Raceway in Madison, Illinois. VeeKay crashed out after 65 of the 260 laps.
Every session for the Bommarito Automotive Group 500 presented by Axalta and Valvoline was completed on the same day, as VeeKay and his NTT IndyCar rivals had to practice, qualify and race on Saturday. In the first two sessions, VeeKay's team Ed Carpenter Racing went the wrong way on setup with their cars, and as a result, VeeKay and teammate Ed Carpenter had to settle for 22nd and 23rd in qualifying.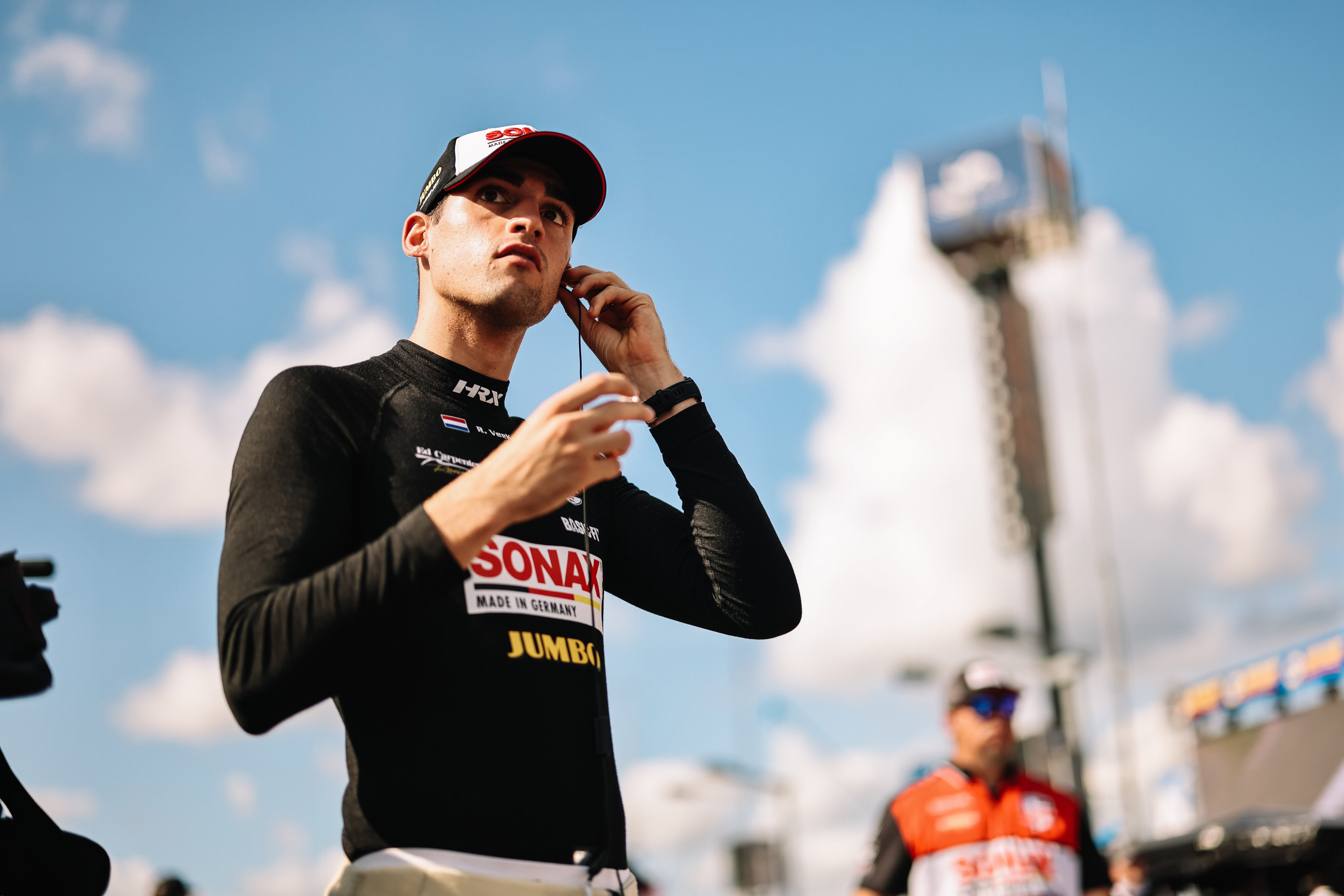 Starting from 22nd on the grid, VeeKay drove the #21 SONAX Chevrolet in his trademark bold fashion. Within two laps, VeeKay had passed seven rivals, and after the first caution necessitated by an incident involving two of VeeKay's rivals the Dutchman found himself in 14th place. ECR's red-and-black car shot past its rivals left and right, and was caught on camera as usual.
A top-ten finish seemed within reach for VeeKay as he could effortlessly keep up with the leaders' pace. In no time, the Dutch driver passed four more rivals and after 50 of the planned 260 laps, he was up in tenth place.
Unfortunately for the Fort Lauderdale, Florida, resident, it was not to be at the World Wide Technology Raceway where VeeKay finished fourth and sixth in 2020. After teammate and owner Ed Carpenter lost control of his #20 USAF Chevrolet and hit the wall hard, VeeKay ran into trouble in the ensuing restart. The one-time IndyCar race winner hit the car of Scott Dixon, who in turn crashed into Alex Palou. This resulted in each of the three men hitting the concrete wall and dropping out of the race.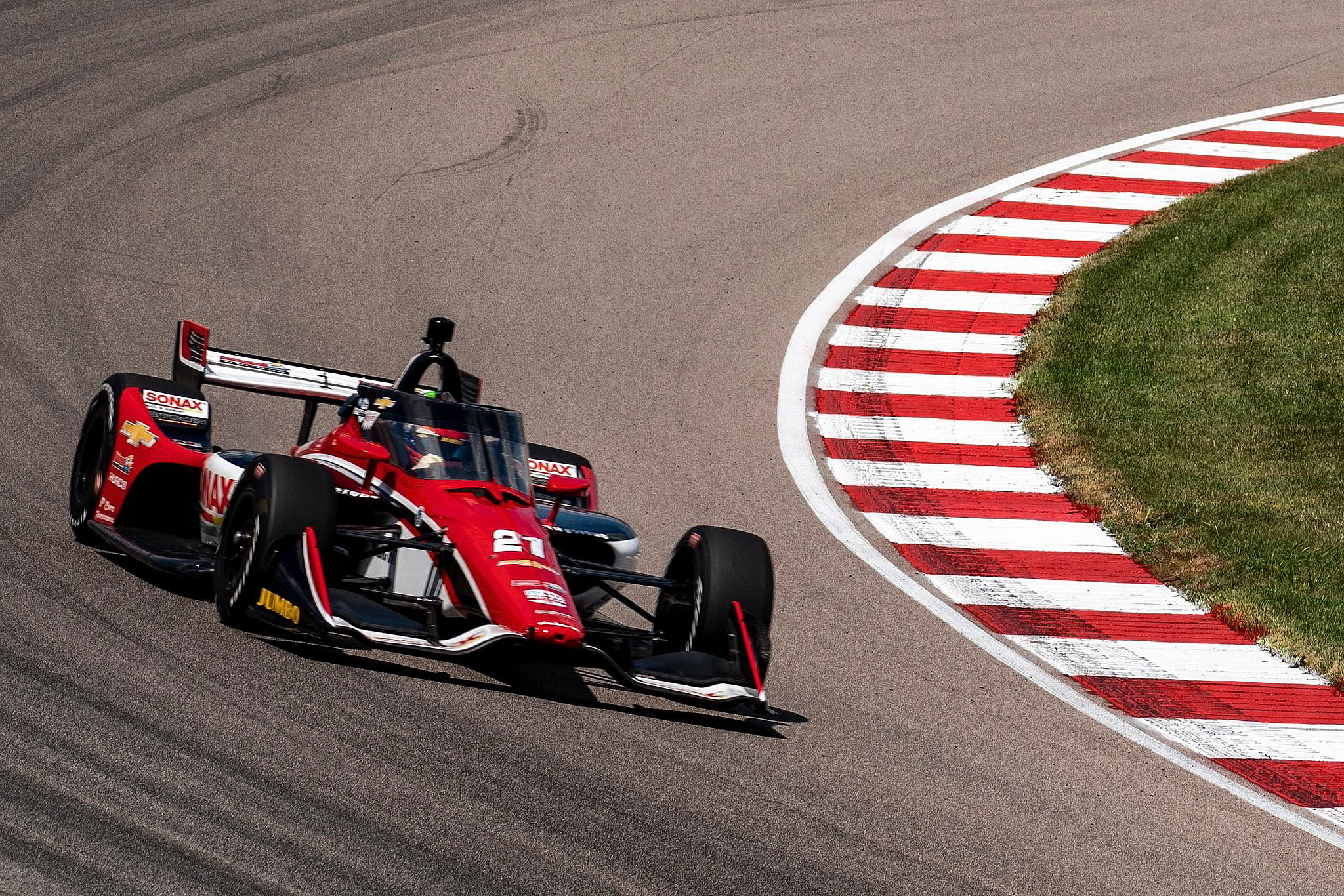 "It's a shame I had to retire early, because it was going really well", said VeeKay from the United States. "Last year at Gateway I noticed that it is difficult to overtake during the race. A lot depends on the pit stops and the restarts. On that last part I made some nice moves last year, and again this year it went like clockwork. I think I overtook 13 cars in just five laps under green."
"Today the on-track atmosphere was tense. Ahead of the restarts, there was an accordion effect, with the field being pulled apart and then coming too close again. This led to a number of incidents. Unfortunately, I was involved in one of those incidents."
VeeKay knows it could have happened to anyone. "I was sorting into the inside lane of the first corner. Another driver in front of me suddenly got off the throttle because others in front of him coming off the throttle as well. At that point there is not much you can do to avoid a collision. The midfield is dangerous at restarts and from my position – 11th at the time – I was a passenger. Palou was also a victim of the whole thing."
After a rock-solid start to the NTT INDYCAR Series season, VeeKay has not been having a good time lately. "After my collarbone injury I have suffered a lot of setbacks. I hope the poisoned chalice is empty now. The upcoming tracks suit me, so I'm setting my sights on the races there. I won races at both Portland and Laguna Seca in the Road To Indy. I will be training hard for the next three weeks, in order to be optimally prepared for the last three races", concludes VeeKay.
The 2021 NTT IndyCar Series season will conclude in September with a trio of races on the West Coast. First up is the Grand Prix of Portland. On September 12, one day after VeeKay's 21st birthday, racing will take place at the Portland International Raceway in Portland, Oregon. The green flag will be waved around 21.30hrs Dutch time.